Library Hours
Mon

07:30 AM - 02:15 PM

Tue

07:30 AM - 02:15 PM

Wed

07:30 AM - 02:15 PM

Thu

07:30 AM - 02:15 PM

Fri

07:30 AM - 02:15 PM

Sat

Closed

Sun

Closed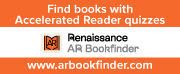 Quote of the day
"What the mind can conceive, it can achieve." – Napoleon Hill
Did you know
Iceland consumes more Coca-Cola per capita than any other country.
Reading Fair Announcements
READING FAIR DATES and LINKS
The McWillie Reading Fair will occur on February 14.
Projects are due to teachers on Friday, February 10.
Participation is mandatory for Grades 3-5.
The Student Fair Packet is on Google Classroom and below.
If you need a physical copy of the packet, please email Mrs. Bryson.