Library Hours
Mon

07:30 AM - 02:15 PM

Tue

07:30 AM - 02:15 PM

Wed

07:30 AM - 02:15 PM

Thu

07:30 AM - 02:15 PM

Fri

07:30 AM - 02:15 PM

Sat

Closed

Sun

Closed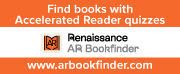 Quote of the day
The best years of your life are the ones in which you decide your problems are your own. You do not blame them on your mother, the ecology, or the president. You realize that you control your own destiny." – Albert Ellis
Did you know
The typical person goes to the bathroom 6 times a day.
Reading Fair Announcements
READING FAIR DATES and LINKS
The McWillie Reading Fair will occur on February 14.
Projects are due to teachers on Friday, February 10.
Participation is mandatory for Grades 3-5.
The Student Fair Packet is on Google Classroom and below.
If you need a physical copy of the packet, please email Mrs. Bryson.